Open house set for new Allegany High School
By: fioreMarketing | July 13, 2018 | Original Article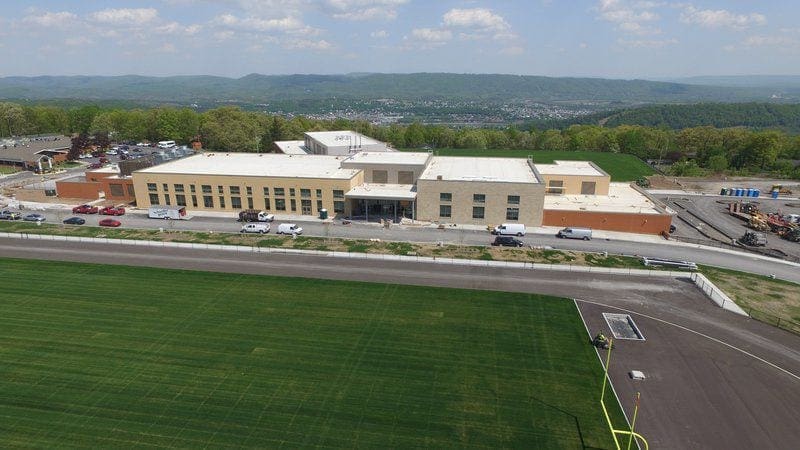 Governor, other state officials expected to attend public ceremony, tours
CUMBERLAND — A date of Aug. 20 has been set for the grand opening of the new $51 million Allegany High School on Haystack Mountain.
A dedication ceremony will take place at 9:45 a.m., with guided tours taking place afterward, according to a news release issued by the Allegany County Board of Education.
BOE member Laurie Marchini, who was first elected in 2010, has watched the project develop from its earliest days.
"I really think it will be the most significant thing that this board of education and the county commission have accomplished," she said. "It is a wonderful thing for the city of Cumberland and the Allegany community. People care where their kids go to school. To have a state-of-the-art facility like that here is huge for everyone."
The event is expected to be attended by Gov. Larry Hogan, Comptroller Peter Franchot, Maryland Secretary of Budget and Management David Brinkley, and David Lever of the state's school construction program.
The idea for a new Allegany began to take shape in 2009 when the school board ordered a study to look at the utilization of secondary schools in the county.
Plans began to solidify in 2011 after the BOE acquired the 22-acre site on Haystack Mountain. The school was built on the footprint of the former Sacred Heart Hospital following its demolition and clearing in 2015.
The site was acquired in a land swap between the city of Cumberland and the Western Maryland Health System.
"The city traded the land on Willowbrook Road for (the acreage on) Haystack (Mountain)," said Marchini. "The city gets to keep the high school in the city.
"The state was amazed that the school board, Western Maryland Health System and city came together to make this deal happen," said Marchini. "It can't be underestimated what that meant for the project. The county was a big help with funding, which is their role."
Officials had hoped to open the school in the summer of 2017 but funding issues delayed construction. Through a competitive bid process, construction estimates came in higher than expected. In addition, the state's funding formula had changed which made delaying the project for an additional year, to receive the new financial terms, advantageous to the project.
Ultimately, Leonard S. Fiore, Inc. of Altoona, Pennsylvania, was awarded the construction contract for the 750-student school. A groundbreaking was held in May 2016 for its construction.
The former Allegany High School at 616 Sedgwick St., which was built in 1925 and opened in 1926, officially closed in June after 93 years of service. No plans are in place for its future.
View Original Article