Garvey Manor to break ground on $10M project
By: fioreMarketing | October 17, 2020 | Original Article
HOLLIDAYSBURG — Garvey Manor is set to embark on the second largest expansion project in its 55-year history.
After Bishop Mark L. Bartchak blesses the ground for the project Thursday, work will soon begin on Marian Heights at Garvey Manor, an estimated $10 million, three-phase project — which will include Garvey Manor's first cottages.
The first phase calls for building 28 cottages, the second phase will add 10 cottages and an apartment building with 28 units, and the third phase will include a convent for the sisters and a community center, said Sister Joachim Anne Ferenchak, administrator.
Garvey Manor is a not-for-profit organization and under joint sponsorship of the Diocese of Altoona-Johnstown and the Carmelite Sisters for the Aged and Infirm.
The entire project will likely take eight to 10 years, Ferenchak said.
"Our mission is to expand the type of services we provide at Garvey Manor. It has been our vision for a long time and it is now coming to fruition," Ferenchak said. "It has been our hope to move into an expanded continuing care retirement community with independent houses."
The expansion is needed because of an increase in the elderly population in the area.
"People are looking for and need long-term care services; our commitment to long-term care is what Garvey Manor is all about," Ferenchak said.
"We are the Carmelite Sisters for the Aged and Infirm. As our ministry, we are invested in services and care for the elderly. Our commitment to our mission is going to be extended with Marian Heights," she said.
Site work for the first phase, located behind the present facility, cost $3 million and began in January, but work was interrupted by COVID-19.
"It was all undeveloped land with no utilities. We had to clear the land. It was steep terrain that we are prepared to build on," Ferenchak said.
Phase two, which will be on the site of the former Diocese of Altoona-Johnstown administration office on Logan Boulevard, will be started within two years and could run concurrently to phase one. The time frame for phase three is undetermined, Ferenchak said.
Ferenchak is excited about the new cottages, which will range in size from 1,200 to 2,287 square feet.
"Those who are interested in the cottages can choose the design and the lot where they want to live," Ferenchak said. "We have seven different models — this won't be a cookie cutter project. There will be diversity in the cottages being built.
"We have several commitments right now. They will get a life lease. Garvey Manor retains ownership; and they will pay a monthly service fee."
Director of Development Holly Keller is also excited about the project.
"It is an honor and a privilege to be part of such a magnificent project. I am very excited that we are able to expand to our ministry to include individuals who are seeking independent living in a Christian environment," Keller said. "Marian Heights will offer the security of community retirement living in a luxurious home where residents can avail themselves of the comforts and services offered in a premier retirement community."
Garvey Manor has served the elderly since 1965. The present building, part of Garvey Manor's largest expansion project, opened in 2003. The designation as a Continuing Care Retirement Community was issued by the Pennsylvania Department of Insurance in 2009.
Garvey Manor Nursing Home is a skilled nursing facility with the capacity for 132 residents. The Marian Center for Dementia Care is also part of the nursing facility.
The expansion included the Our Lady of the Alleghenies Residence, which houses both a personal care home and residential living apartments.
The personal care home is licensed for 54 residents with 44 individual units. Three spacious apartments are located on the north end of the residence's second floor.
The Marian Heights project will add 66 units to the complex.
Site work was done by Leonard S. Fiore Inc., and cottages will be constructed by Metz Builders of Hollidaysburg. The architect of the cottages is THW Design from Atlanta, Ga., experts in designing for senior living, Ferenchak said.
The project will be financed through a capital campaign and bank loans, Ferenchak said.
"We always stress we are committed to the community. We have served thousands of families over the years since 1965. We are committed to being here into the future," Ferenchak said.
"Garvey Manor has worked over the years to provide the best quality care and services residents can receive. Our reputation has been hard-earned, we are committed to what we are doing every day. We have a committed and competent staff to provide exceptional care to our residents," she said.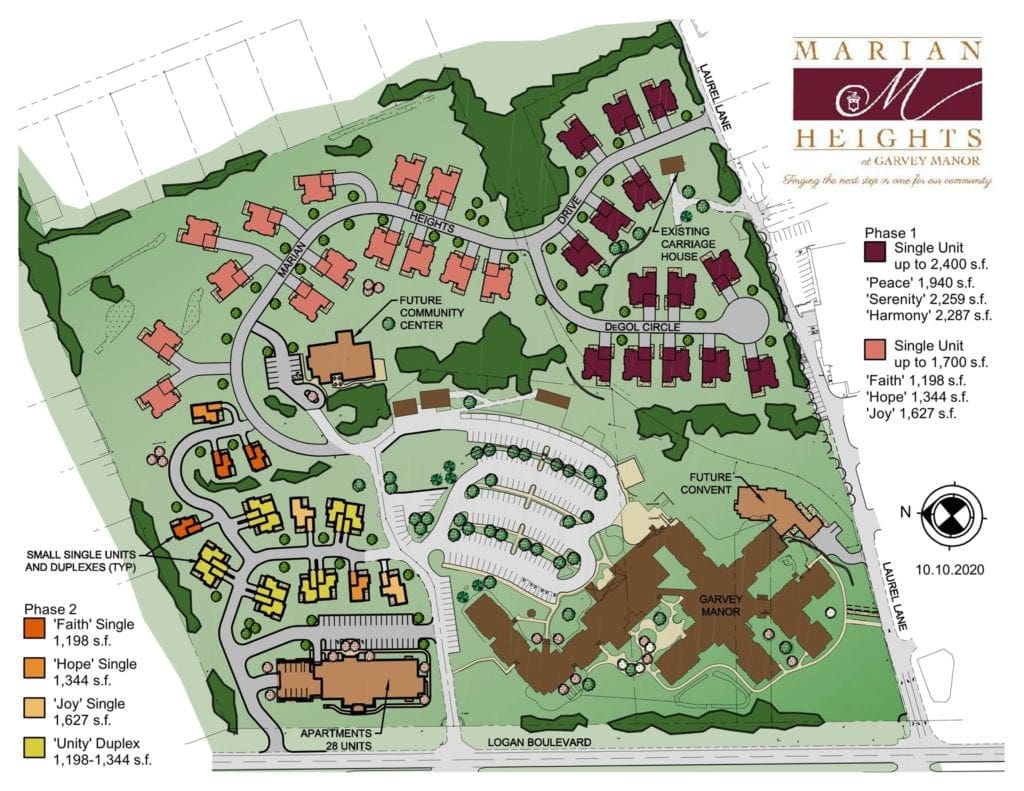 View Original Article